COVID UPDATE: Most Importantly we are still in business… albeit slightly differently. I have moved operations to my home address including stock you might need (security stickers, tags, pins etc.) If you need a service to your antennas, simply give me a call (086-8116933) and we will make an appointment; even if the store is shut. I can simply be let in and I will fix your security system as quickly as possible.
If you are opening a new store or need a new/replacement antenna.. again call the mobile number 086-8116933 or contact checkstock.stephen@gmail.com on e-mail. I have all pictures, product information, prices etc, close at hand and therefore can happily conduct a sales call online or via the mobile phone.
Once this Covid pandemic has passed we will be looking to return to normal methods of business as soon as possible.
KEEP POSITIVE : This will all be nothing more then a bad memory very soon.
Warm regards to all customers
Stephen Phillips
Checkstock is the trading name of Incentive Marketing Ltd. The company was founded in 1971 by Ron Phillips and is a registered Irish brand name. Checkstock is the company that initiated the concept of electronic article surveillance in Ireland, and as such is also the longest trading company in this field in Ireland.
The reason to install a tagging system is simple: In Ireland each year retailers lose between 2% and 5% of turnover to shoplifting. Sometimes this may go unnoticed, but it certainly is happening. Customers routinely give us feedback that their gross profit increased by more then 5% with a tagging system in place and this increase in profit comes without an increase in sales!
There are many styles of tag currently available allowing Checkstock to protect most stores including; Fashion Retailers, Pharmacies, Hardware/DIY, Libraries, book Stores and sports outlets, we even have a specialised tag for children in creches.
This website will highlight a number of the types of stores which commonly use tagging equipment and suggest styles of tags which suit various products.
We also have a special offers page which highlights our current money saving deals as well as an information page for those considering rental.
To Contact Us : Please call Stephen on 086-8116933
Or : E-mail your query to checkstock.stephen@gmail.com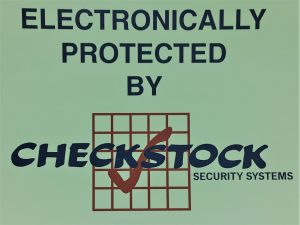 Incentive Marketing Ltd: t/a Checkstock Security Systems, 14 Kelly's Bay Promenade, Skerries, Co. Dublin. K34PX64.