DIY / Hardware Stores :
Hardware stores in a similar fashion to toy stores or chemists would find that they can cover most items on general sale with a standard sticker tag. However for difficult to tag or high value items there is also a range of reusable hard tags to cover these. ( for a special offer relating to Hardware stores please check our special offers page for details )
The Standard Sticker Tag :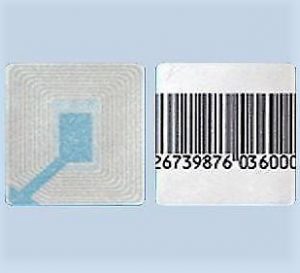 The Standard Sticker Tag is 4cm x 4cm in dimension and is the least expensive, disposable, electronically detectable tag ever developed. The face is either printed with an imitation barcode or may be ordered unprinted. The tag itself consists of a thin laminate of paper, a precisely etched electronic circuit, backed with pressure sensitive adhesive and removable release paper. As the release paper is removed, the tag adheres to any clean flat surface.